Fifty years of Merino sheep classing, advisory and ram selection combined with the knowledge gained from thirty five years of wool testing from our own on site laboratory points to increased productivity and returns for your commercial and stud enterprise.
Explore this site and contact us to discuss breeding strategies that will put your flock in good stead in readiness for future fibre and carcass premiums.
---

CLASSIC '21 MONDAY SEPTEMBER 6TH
💥 NEW MURRAY BRIDGE RACECOURCE S.A 💥
>> Download 2021 Classic Sale Catalogue (XLS)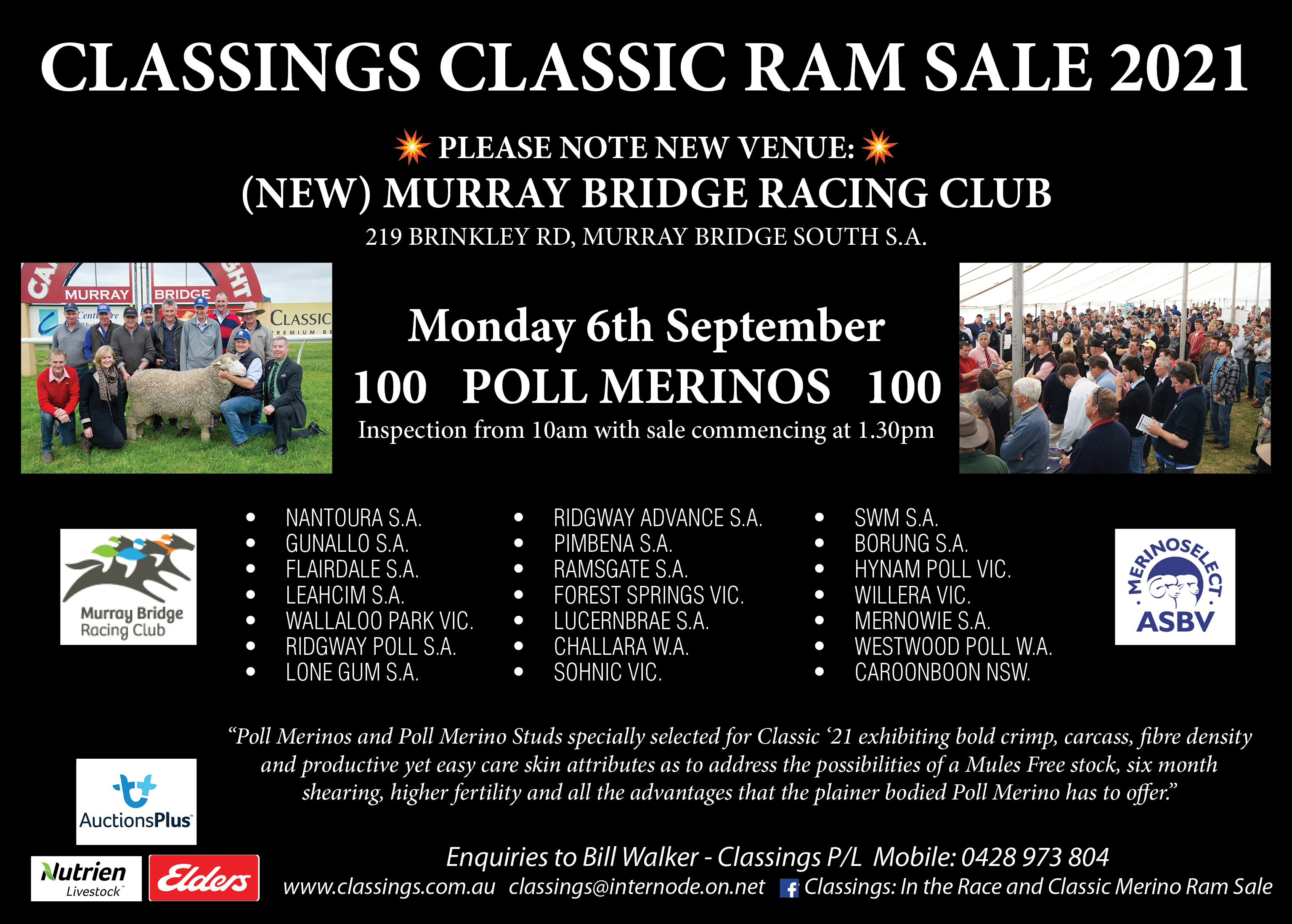 ---
2021 CLASSINGS CULLINGS NEWSLETTER



$24,000 GUNALLO CLASSIC SALE TOPPER

Nutrien stud stock's Gordon Wood, buyers Jodie Reseigh-O'Brien and Darren O'Brien, O'Brien stud, Kyancutta, vendors Ray and Brad Schroeder, Gunall stud, and sale host Bill Walker with the $24,000 sale-topper.



EP Stunner: Jed, Tilly & Craig Keller, Ramsgate stud, Tintinara, with Bill Walker, Nantoura's Chris Prime (holding Lot 91), Wharminda, and Elders' Tony Wetherall



PROUD SIRE: Olivia, Indi, Ric & Owen Ridgway and Mat Ridgway (holding the $12,000 ram) with buyers Jodie Reseigh-O'Brien and Darren O'Brien, Kyancutta

White River stud's single ram offering soared to an impressive $11,000.



Flairdale stud achieved a $9,500 price tag with one of their rams.
Their 2 rams on offer averages $9,250.