Classings Classic Ram Sale History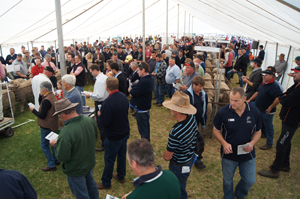 The Classings Classic sale was initiated back in 2002 with only 42 rams from selected studs who were seen to be progressive in their endeavor to address mulesing issues with rams that were genuinely plain bodied including plain and sometimes bare breeches.
The studs involved are handpicked over three states with most being sheep classing clients of Bill Walker and/or testing clients of Classings Laboratory run by Rose Walker.
The rams are also individually selected by Bill to meet the criteria laid down with the initial sale entries back in 2002. Top end fibre (not wool!) is of paramount importance with a ceiling not only for micron but more so Standard Deviation which Bill places as number one importance to ensure buyer confidence of guaranteed good progeny results. All rams are selected with fibre in mind first with carcass a very close 1(a) !
Through the company's experience in sheep classing stud or commercial flocks or testing the same just about every second day, they realised that many animals testing mid to low for SD showing elite type fibre, tended toward free, easy care ewes and rams which not only thrived and survived but passed on excellent fibre traits. Bill quips that the eye-opening early work of Jim Watts taught him alot on the reasons why and how this comes into effect yet adds that his father Don's sheep classing results and the instigation of the first private laboratory in S.A. and subsequent results was the hub of a wealth of knowledge gleaned over many years.
All of the rams with these impressive fibre descriptions are combined with great carcass traits with all rams in the 100-130 Kg range. Bill quickly suggests that although the size of the animals at times is stupendous, it means nothing compared to knowing why and how they got to that stage in the first place. "Many of the rams at the Classic sales will now have additional information added on the rail mostly in the form of ASBV's via Merino Select for those who require it. This can take a bit of the guess work out of the ram's, on the day, visual attributes which are often enhanced through preparation prior to the sale.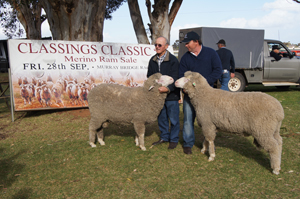 The sale boasted a $4,900 average in 2011 over all but one of the 96 penned but the company is quick to point out that with a $32,000 top and a few others over $10,000, the figure was a bit superficial in lieu of the fact that a third of the catalogue made under $2,000 for the best stud/flock rams in the country!
This year (2012) the sale boasted 115 mostly polled merinos with the same goals in mind represented by 21 studs from South Australia and Victoria. 105 rams sold to a realistic $3,103 appreciated by a buying public who feared that after the 2011 sale that there was no value money way of acquiring the best genetics in the nation! A $1771 drop of average from the previous year realised many top flock rams in the sale were 'steals' at $1,500 to $2,000.